Kitchens
The heart of any Fredericksburg home is in the Kitchen. Whether you use yours for family dinner or dinner parties, the Kitchen is a big part of your day to day life. Making sure it looks as good as the meals you want to make in it is key to any successful flip. Areas of focus are Paint for walls and trim, cabinets, and countertops. If you can set the three of these areas to blend well, the rest of your project will follow suit.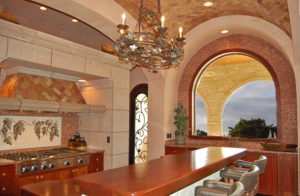 here is a great kitchen in a House on Rancho Palo Alto North of town.
I loved the use of arches in this home that was carried over into the kitchen!