Head for the Hills – Pedernales Brewing Company
---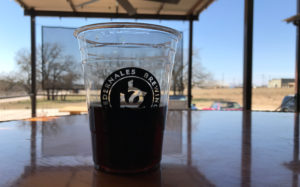 This week I write from the Pedernales Brewing Company, located across from the local movie theater, Fritztown Cinema, at 97 Hitchin Post Trail on Highway 87. Once a regular plot of Texas Hill Country land, this lot now gives residence to the best brewery this side of the Hill Country. Known for their delectable takes on proven beer classics as well as their treks into unexplored brewing territory, the Pedernales Brewing Company and it's line of Lobo branded beers are quickly becoming a force to be reckoned with. From their first of it's kind Robert Earl Keen honey pilsner, to the rich yet approachable Lobo Negro, and all the way back to the classic Lobo Texas Lager, PBC is exemplifying what it means to be a craft brewery amid the likes of 'Big Beer' Anheuser-Buschs and 'pushing the envelope' micro breweries. Their desire to innovate, yet maintain a tried and true approachability, a perfect representation of the small town meets modern day attitude that Fredericksburg aims to cultivate.
Originally conceived in 2009, Pedernales Brewing Company is the brainchild of founder and CEO Lee Hereford. His experience with multiple wineries, founding his own companies, and his love for beer leading to the creation of PBC almost exactly thirty years after his entering the beverage industry. His knowledge of the business a perfect fit for the masterminds behind the brews. The collection of both great business and great beer minded individuals guaranteeing not only a memorable drinking experience but a place in your local taps, store shelves, and lists of great places to visit for years to come.
At the brewery I sat down with CEO Lee Hereford, Brewmaster Peter McFarlane, and Assistant Brewer Roy Marler to hear just how PBC is able to both step outside of the box and add new life to old classics in their numerous styles of brews.
The brewers at PBC are quick to tell you they are all about the quality of their beer. Whether being willing to go through additional filtration, experiment with entirely new and novel ideas, or even just withhold from gravitating towards easier and quicker to brew beers, the boys down at PBC are all about creating the best beer that they possibly can. Working from a old school foundation of brewing, most of the beers here begin with classic recipes and the ingredients that make them what they are. The brewers research recipes, water mineral contents, and grain and hops sources to discover every little factor that goes into each great beer. After research and study, deciding upon a fusion of these conditions to create the perfect environment for the yeast and brewing of the beer. From taking clean well water through reverse osmosis, stripping it of it's mineral content, and recreating mineral contents of other regions, to sourcing grains and hops from whatever area of the world they deem to be the best for the particular beer. No stone is left unturned in their quest for the perfect beer.
Founded in 2009 with distribution beginning in 2012, Pedernales Brewing Company began their venture into beer with the Lobo Texas Lager and Lobo Negro beers. Their Hefeweisen following shortly thereafter, and new additions eventually evolving into the ten or so beers currently available to try – plus or minus a few depending on the season. As of now their current lineup includes the Lobo Texas Lager, Lobo Negro, Lobo Hefe, Lobo Kristall Weizen, Lobo Lito, Lobo Midnight Porter, Classic India Pale Ale, Bitter Battle American Pale Ale, Robert Earl Keen Honey Pilsner, and Robert Earl Keen Front Porch Amber Ale. Whether you're a classic light lager fan or looking for something entirely new, PBC is sure to have you covered.
From the Lobo Texas Lager brewed with malted barley and hops direct from Germany and the REK Honey Pilsner, a first of it's kind creation, all the way to the Lobo Lito with it's "brewed to be light" instead of watered down taste, and the Bitter Battle APA, loaded with hops flavor, PBC continues to cater to every palette. Their desire for depth and complexity not unmatched by their desire for drinkability.
While I'm more than happy with my Lobo Negro and Hefes, I'm sure there's some of you out there wondering if the beer really lives up to the hype, and if so, just how much? Well I'm more than happy to share that in the past two and a half years Pedernales Brewing Company has entered nine beers into eighteen national and international competitions, winning more than forty five medals total between it's brews. That's twenty seven Gold medals, sixteen Silver, and six Bronze. Along with winning two Best of Show awards as well! Talk about a showing worthy of the Texas Hill Country!
Not only is the beer tasty and the people local, Pedernales Brewing Company is locally owned. With shares held by over 200 investors in addition to Hereford, the brewery is the culmination of many people's love for local business, good beer, and great people. Not only are you supporting the amazing brewers, employees, and local investors when you buy Lobo at your favorite restaurant, bar, or grocery store, their amazing investors are supporting you. Every day the tasting room is staffed by investors volunteering their own time to help the brewery they know, own, and love. Visiting for a tasting is nothing short of amazing with the time and devotion given not only to the brewery, but to you, the taster! So come on down, ask as many questions as you like, and get a tour of where the magic happens at Pedernales Brewing Company. They'd love to show you around!
Subscribe to the Head for the Hills blog series to be automatically entered to win a prize from the destination of the week as well as discounts from local businesses! This week Pedernales Brewing Company is giving away a sweatshirt with built in koozie pocket and bottle opener to one lucky winner! Subscribe and win below!
enter email address
enter your email address for a chance to win
[mappress mapid="3″]