Head for the Hills wk. 14 – Fredericksburg Trolley Tours
---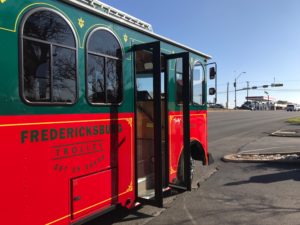 Welcome to the fourteenth week of Head for the Hills, everyone! This week I'll be featuring the newest great addition to our lovely town, the Fredericksburg Trolley Tours! From Tuesday to Sunday the Trolley Tours will be picking up, dropping off, and giving the best tours of Fredericksburg this side of the Pedernales. From simple transportation, to historical and culturally loaded tours designed for both the historian and curious explorer in mind, Fredericksburg Tours has got you covered! I sat down with founder and owner Becky Howard to hear just what this trolley system stands for and it's impact on the community.
While the Trolley Tours may seem the perfect business to start up in Fredericksburg, it's not Becky and husband Joe's first foray into small town business. Owning a ranch outside of town, as well as a successful B&B, the two have enjoyed small town life for many years. But it wasn't until Becky's cancer diagnosis two years ago that the thought of giving back in a way more helpful to larger amounts of visitors crossed their mind. With the holding of a fundraising event to help cover medical costs, the community supported Becky through one of her most trying times, and in return she and Joe decided they would give back in a bigger way.
The idea to start a trolley tour service didn't start with San Francisco, but with a desire to help solve three issues Becky's taken notice of in town. First, the annoyances that come with finding parking on and near Main St and the general hassle of dealing with a car when trying to visit all that Fredericksburg has to offer. Second, the gradual loss of cultural and historical appreciation of the town, it's citizens, and the German settlers that came before. And lastly, the issues that local businesses face when not fortunate enough to have a storefront on East Main Street. Becky believes that with the Fredericksburg Trolley Tours, she'll be able to help resolve all three.
Whether you're staying in town for the weekend at one of Fredericksburg's many hotels or simply trying to gain a fuller appreciation for the history of the town you love and live in, Becky and her trolleys have got you covered. With stops all around town and fourteen hotels and counting, you can buy tickets and be taken to and from anywhere you're staying. Not to mention brush up on your cultural, historical, and architectural knowledge of the town as you're ushered around Fredericksburg's hot spots, enjoying the views from the beautiful trolleys and the narration of one of their numerous talented and entertaining guides. It's a blast for the whole family! As of now Becky has two trolleys running, with a third on the way. Running all day long throughout Spring Break and with many different tours to choose from in addition to just getting around, go check 'em out at fbgtours.com and get riding!
Subscribe to the Head for the Hills blog series to be automatically entered to win a prize from the destination of the week as well as discounts from local businesses! This week Pedernales Brewing Company is giving away a sweatshirt with built in koozie pocket and bottle opener to one lucky winner! Subscribe and win below!
enter email address
enter your email address for a chance to win