Head for the Hills wk. 15 – Fredericksburg Mini-Donut Co.
and when your finished with your donuts you can
search for a little Fredericksburg Real Estate Here
---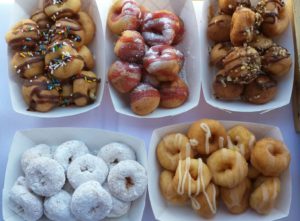 You step out of your car. Walking up you are assaulted with the numerous sights and smells. Choices. Choices. Choices. Where do we even begin? As a cool draft blows in it hits you… The most mouthwatering, enticing, and delectable mix of warm gooey goodness imaginable. Glancing over involuntarily a beam of light descends from the heavens accompanied by a chorus of angels. The clouds open and from within you are greeted with the warming smiles of the Burns family. What is this angelic trailer seen before you? Why it's none other than the Fredericksburg Mini-Donut Company!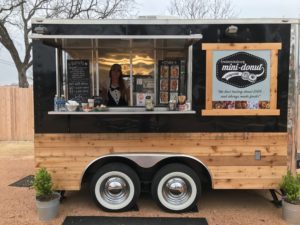 This week I'm at the Fredericksburg Mini-Donut Company! But instead of taking my word for it, take Julies! I sat down with her to get a little bit of backstory and an idea of what all Fredericksburg Mini-Donut Co. is all about!
"Terry and I first tasted freshly cooked mini-donuts up north years ago and just recently decided to introduce/offer them to the Texas Hill Country.
Our family has been in the mini-donut biz for 3 years, preparing and serving our unique mini-donuts at special events and festivals across the country.
Each morning, we prepare our dough and cook each order fresh for the customer. We then top the warm mini-donuts with freshly prepared glazes and toppings. With delicious chocolate, caramel, vanilla & strawberry glazes along with powdered and cinnamon sugar we make sure that we have a donuts for everyone!
Hours: Thur-Fri 7:00 a.m -1 Sat-Sun 8-1

1102 E Main St, Fredericksburg, TX 78624 ( Ace Hardware parking lot)
Our fresh mini-donuts may be the best donuts you ever put in your mouth. Melt-in-your-mouth goodness…little donuts with big flavor!"