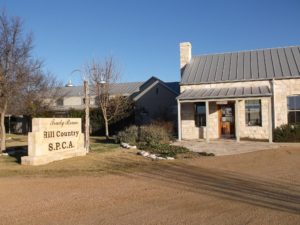 This week I write from the Hill Country SPCA, located across from the Gillespie County Fairgrounds and Airport, at 2981 Hwy 16 South. As the only non-profit, no-kill animal shelter in the entire Texas hill country, the Hill Country SPCA's main focuses are preventing cruelty and neglect of domesticated animals, reducing the number of homeless and unwanted companion animals, eliminating euthanasia, fostering responsible pet ownership, and providing shelter and placement services for the homeless and unwanted animals of the hill country. The organization was founded back in October of 1997 with dreams to one day have their own facility in town. Those dreams were realized in 2006 with the grand opening of the Trudy Brune Hill Country SPCA shelter facility.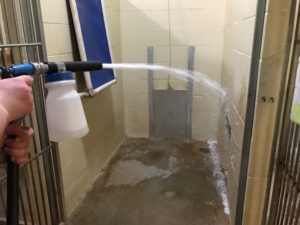 Let's take a look at the average day at the Hill Country SPCA! Volunteers/Employees arrive at 6 A.M. to feed breakfast to all the dogs. The facility goes through over 200lbs of dog food and 25 lbs of cat food every week! They then take all the small sized dogs out for some morning exercise and to get their kennels deep cleaned for the first time ofthe day. With a total of 109 dogs and 48 cats, cleanliness is definitely one of the top priorities at the SPCA! They scrape every surface of the kennel, then pressure wash the entire thing with soap and water, and then towel dry to perfection! Not a single hair ball or piece of poop is missed! Once the small dogs' kennels are sparkling clean then it is our big loveable mutts that get a turn to go and play. After the cleaning and feeding the rest of the day is spent trying to find the perfect new pet with possible adoptees, making sure all animals are up to date on shots and medicine, and doing odd jobs around the facility. There is never a dull moment at the Hill Country SPCA!
Now let's look at some of the dogs currently on special adoption pricing for March Madness! While every animal at the Hill Country SPCA is special, these are some of the most loved and unique dogs around.
Only $25 Adoption Fee March Madness Special!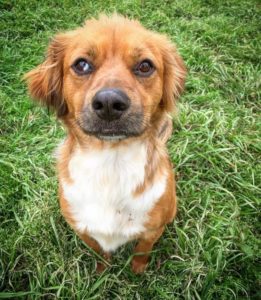 First we have Gunner!
Gunner, sweet sweet Gunner. How could anyone resist a face like this? A 45 pound Border Collie mix, Gunner is the perfect size to do everything with! A hike to enchanted rock? He's your man. A trip to the lake? You betchya! A late night trip to get ice cream because the bachelor didn't pick your favorite? Of course! Take advantage of this awesome March Madness special, it's a win win all around.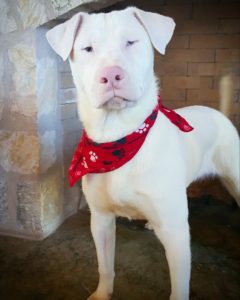 Then we have Echo (A.K.A. The Cookie Monster!)
Do you uhh… have a cookie behind that camera?
Echo here is one of the goofiest, sweetest, all around loveable dogs you will ever meet!! He loves to give kisses and run around playing with other dogs. Echo is completely deaf, and vision impaired but it doesn't slow him down one bit. If you've got the patience and commitment to learn he is willing to teach you his ways! This boy would do great with a highly active family, with other dogs in the home. He doesn't mind cats, and loves kids, but doesn't know his own strength so he would be best with kids that are 100% stable on their feet, otherwise they might go for a tumble! Do you have it in your heart to add this special needs babay to the family? Contact the shelter at (830)990-9085 or info@hillcountryspca.com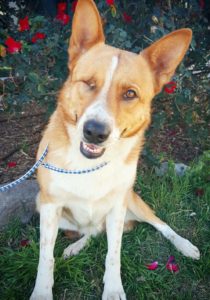 Then last but not least we have Zara!
She is a two-year-old German Shepherd mix. This sweet girl loves belly rubs and long walks around for the block. She does great with male dogs and submissive females, but would do best in a home without cats. She loves kids, and will lean into them and roll on her back for attention. Just a little back story on Zara, she came to Hill Country SPCA a year ago.. Yep, she celebrated her one year anniversary here on March 7th. When Zara arrived at Hill Country SPCA she was a mama of 12 who also had a traumatic eye injury. After taking phenomenal care of all her pups Zara was able to get that pesky injured eye removed and finally went up for adoption. And here we are a year later and this girl still hasn't found her family! Zara is just looking for that active fun loving family who wants to spend their time rubbing bellies and going walks.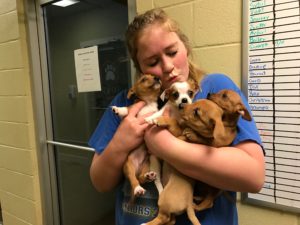 Adoption applications are available on the Hill Country SPCA website, or you can stop by the shelter in Fredericksburg to visit Gunner, Echo, Zara, and all of our little friends. Have been thinking about getting a pet to surprise the kids or that special someone? Come by! You'd be surprised at how easy it is to fall in love with one of our furry residents! The pawsabilities are endless!!
Subscribe to the Head for the Hills blog series to be automatically entered to win a prize from the destination of the week as well as discounts from local businesses! This week Fredericksburg Mini-Donut Co. is giving away an order of a dozen donuts, flavored to your desire! Subscribe and win below!
Hill Country SPCA – (830) 990-9085
http://www.hillcountryspca.com
enter email address
enter your email address for a chance to win