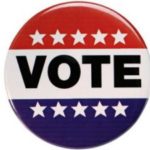 Upcoming Elections:  Know where to vote: Voting precincts for Gillespie county and Fredericksburg TX,  Stonewall, Doss, Hye & Harper Texas
NOVEMBER 6, 2018 IS ELECTION DAY
First Day of Early Voting In Person:  Monday, October 22, 2018 
Early voting will be at the the Gillespie County Court house Room 107
You can early vote October 22, 2018 – November 2, 2018
Week Days  8:00 A.M. TO 4:00 P.M
Saturday October 27, 2018- 9:00 A.M TO 2:00 P.M.
Sunday, October 28, 2018 – 1:00 P.M. TO 3:00 P.M.
What are we voting on :  Here is a Sample Ballot
Where do I vote ? 

What Precinct am I in?
Here are images showing the County and City precincts, if you would like to see a detailed image of your precinct just click your precinct number below.
Voting precincts for Gillespie county and Fredericksburg TX