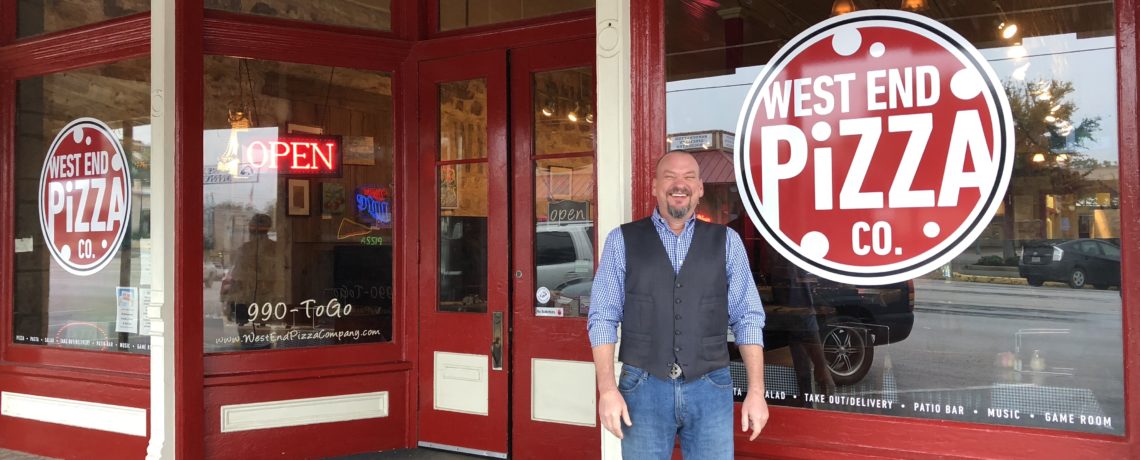 Welcome to West End Pizza Co.!
Are you looking for the best brick oven pizza in Fredericksburg? West End Pizza Co. (WEPC) has it!

Opened back in 2009 by Janet Degenhardt, a mom of two boys and military wife who was looking for a new career. WEPC is located in the historic A.L. Patton Building at 232 West Main Street. Mr. Patton was a Missouri native, a trained tinsmith, and constructed the building out of native limestone in 1897; adjacent to his general store. The best part of this building is that you can still see the original markings inside the dining room! 

WEPC has a great atmosphere! Sit inside the dining hall to experience the historic building, buy some art, or scribble on the table cloths with homemade "crayons". Outside there is a bar, and on the weekends they feature different artist for live music on the patio!

WEPC is by far my favorite brick oven pizza in town; the make their dough from scratch each morning! Their sauces and desserts are made fresh daily as well, insuring the only thing they serve frozen are margaritas! They have a full menu of lunch and dinner food; along with handmade pizzas they offer sandwiches, salads, pasta, beer and wine. I highly recommend the homemade ranch with any flavor of pizza!

At WEPC, it's not just about pizza; it's also about giving back to their community! Janet and her crew love this community and give back to several different organizations including the local schools, Wounded Warriors at Nebo, Chris Staats Memorial Scholarship, andFredericksburg Theater Company just to name a few. WEPC also works with Hill Country Memorial Hospital to provide a free pizza for getting a mammogram!

For more information, menu, delivery, or to sign up for their rewards program visit their website here.
 232 W Main St, Fredericksburg, TX 78624
(830) 990-8646
westendpizzacompany.com