Cool Water Ranch Subdivision Fredericksburg TX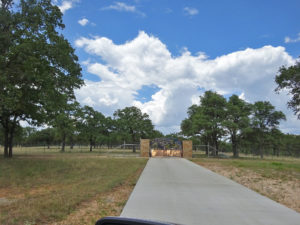 Cool Water Ranch is a great high end rural subdivision offering a convenient location and a friendly neighborhood atmosphere. If you have been looking for a great small acreage lot to build your dream home then check out this: Cool Water Ranch 13 acre Homesite For sale in Fredericksburg Texas. This beautiful tract located in the coveted Cool Water Ranch subdivision is truly ready for your dream home. Some of the improvements already done include a high quality high fence around the entire perimeter aloIng with a Gorgeous rock entrance gate leading into the property.
Most of the clearing has be done leaving a multitude of hardwoods including post oaks, live oak and black jack. There is even a 25 gallon per minute well already positioned in one of the building sites to take advantage of the view. A small wet weather creek transverses the property adding a lot of interesting topography for a small tract. The creek area actually carries a lot of water so might also be the ideal spot to build a small pond or tank. All this just Minutes to down town, in one of the most sough after neighborhoods in Fredericksburg. What are you waiting for, start building your dreams today.
Cool Water Ranch 13 acre Homesite For sale in Fredericksburg Texas