Fredericksburg Flippers
In the Fredericksburg Flippers blog posts I give advice to house flippers and all other home remodeling enthusiasts by sharing my knowledge, past experiences, and resources that have aided in my past success with this craft.
---
Curbside, Bathrooms, & Kitchens
As I mentioned in my first article, when starting a flip you should know exactly what you're getting yourself into. Three things you should always look at are Curb Appeal, Bathrooms, and Kitchens. Especially in a Tourist town where a large portion or renovations turn into B&Bs, these three asthmatics are the key to success.
Here is another Flip Project my wife and I did with some friends over on Apple Street back in 2009. It was one of those that had been used hard and was filthy but we added a bathroom and changed around the front entry , along with some new flooring and paint. This one went pretty quick, I think we bought it did the work and had it back on the market and sold within the space of about 4 months! That was in large part due to your Friends Ed and Shelba!
---
Curb Appeal
There is a lot you can do for Curb Appeal before you ever spend a dime on repairs.
Start with the basics :
Yard – if you need to, start on watering cycle to bring some life, otherwise trim trees/ gras, pick up limbs
Power Wash driveway and sidewalks, even the exterior walls of it would help the paint job
Rid property of all pests (ants, wasps, moles)
First impressions mean a lot. So even if you have a small budget it's always worth the cost of repairing the entry way. A new door and frame can really make the difference when a buyer is stuck between two properties. Check out the curb appeal of this Home in Triple Creek Subdivision just north of Fredericksburg.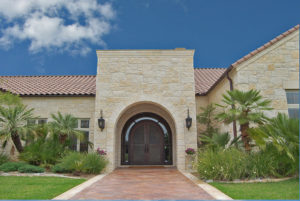 ---
Bathrooms
Fix your bathrooms, or break your investment
As the only room in any home that truly guarantees privacy, you want to make sure it brings a sense of peace and comfort. This can be done on many different levels from a new paint job to a total renovation depending on your budget, but the number one thing to focus on is WORKING fixtures. No peace is found when the shower runs cold or the toilet can't flush. Awesome bath in a house in the River Bend Subdivision just East of Fredericksburg.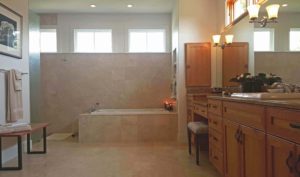 ---
Kitchens
The heart of any Fredericksburg home is in the Kitchen. Whether you use yours for family dinner or dinner parties, the Kitchen is a big part of your day to day life. Making sure it looks as good as the meals you want to make in it is key to any successful flip. Areas of focus are Paint for walls and trim, cabinets, and countertops. If you can set the three of these areas to blend well, the rest of your project will follow suit. Here is a great kitchen in a House on Rancho Palo Alto North of town. I loved the use of arches in this home that was carried over into the kitchen!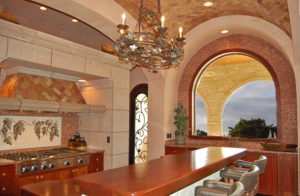 ---
Fredericksburg Flippers
Email Us...
with any suggestions, comments, requests for additional info, etc.