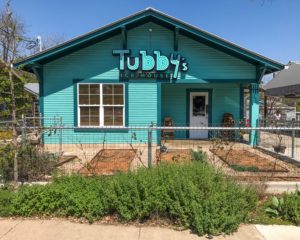 This week I write from Tubby's Ice House, located a block off of Main Street, at 318 East Austin Street. With dog-friendly open patio and picnic table seating, an inviting playground for children, a wide selection of beers and wine, and fresh takes on classic foods Tubby's is THE place to enjoy the outdoors and a great meal with the whole family. The restaurant was founded about a year and a half ago by the creators of the nearby Otto's German Bistro: John Washburn, with friends Adam Ebert and Adam Yoho. Their vision was that of a more casual alternative to the upscale dinner-only dining environment of Otto's. Thus, the laid back Tubby's was born. Almost two years later, Tubby's has quickly established a reputation for being one of the premiere casual outdoor restaurants in all of Fredericksburg. You would be hard pressed to find somewhere in the city that can offer something similar to the Tubby's experience.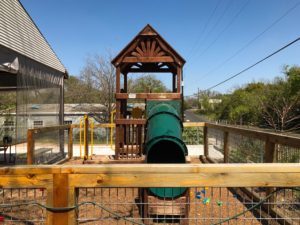 With the shrieks and laughter of smiling children running around, the relieved looks and sighs of parents finally being able to relax and enjoy an ice cold drink over conversation, and maybe a dog bark here and there Tubby's is truly one of a kind. Tourists and locals alike come to sample the unique foods and environment. Their menu is an eclectic selection of foods with fresh ingredients sourced directly from the countless local farmers and even some herbs and vegetables from their garden they curate themselves. With items such as loaded pulled pork fries, fresh kale Caesar salad, Mahi Mahi fish tacos, shrimp ceviche, and a variety of burgers that will make your mouth water Tubby's has found the perfect blend of cuisine. Just writing about all of this right now I'm having a hard time staying focused and not just going to Tubby's to take a break and grab a burger and a craft beer and enjoy this beautiful day.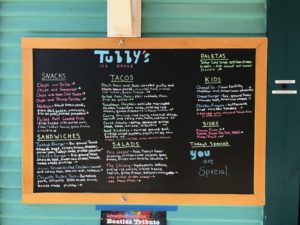 In this blog I have covered countless exciting and classic Fredericksburg locations and can honestly say that I am thrilled that something like Tubby's has come to the city. It is exactly what Fredericksburg needs, a chill, relaxed location for stressed parents (tourists and locals) to bring their family to and just reconnect with what it's all about. The experience. Spring is here and it is now time to get outside and enjoy the best that Fredericksburg has to offer. If you haven't been to Tubby's yet, I would implore you to clear your busy schedule for a few hours and head there immediately. I am absolutely positive you will be commenting and thanking me for the recommendation. As always, I thank you all for reading and hope you have a great week.