PECAN GROVE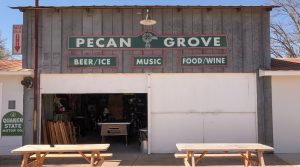 Today, I write to you from way out in the middle-of-nowhere. Pecan Grove is located about 5 miles from Main Street up HW 16 North, but it feels like you're a million miles away from the city and the stresses of suburban living. At the Grove, life slows to the pace of the pecan trees, and time turns backwards. You find yourself taken away by the authentic 1950's aesthetic, and small town sentiment. So much in fact, that the social boundaries of today just melt away, and you'll find yourself in a conversation amongst three strangers.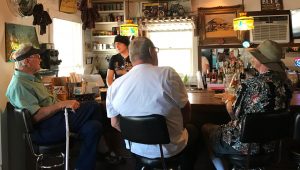 The bar is owned and operated by Fredericksburg Local Matt Martin, who is only 24 years old. The property has been is his family for a number of years but was originally a Segner family property when the store was built in the 1950's. After just over a year open, the bar is starting to pick up some serious traction on Friday and Saturday nights- primarily due to some big names they've booked for live music. On Tuesdays you can enjoy $2 domestic beers (YES! they have LOBO beer), and on Tuesday and Wednesday nights the pool table is free all night.
Pecan Grove is, more than anything, a place for the locals. Hidden deep in the country, it escapes the typical tourist crowd of Fredericksburg, bringing a sense of familiarity to those who visit. "It is funny how often people will run into someone they haven't seen in years, and the people who don't know each other all do by their second or third time back!" said owner Matt Martin. The easy-going atmosphere and riverside seating make this the perfect place to escape our prospering little city, and relax.