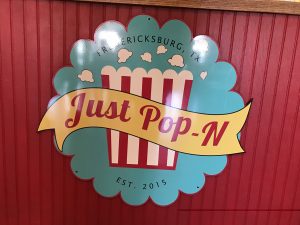 Just Pop -N
Today I write to you from the new location of one of our towns most POPular candy and popcorn shops, Just Pop-N. They just moved into the old Fredericksburg Realty building on Main Street off Llano after almost two years in a shop on Adams Street off Main. This business is a retro popcorn and candy shop with all the best flavors of your past. When you walk in, you'll be taken by a wave of colors and smells, making focused shopping impossible. You'll ride down the candy wall, jumping from jar to jar taking measured scoops of candy to make sure you get a little bit of everything. Before you know it, you're lugging around a multi pound bag of candy stuffed to its fullest capacity .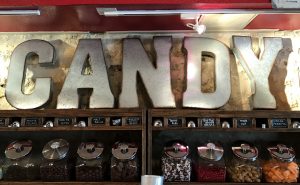 It's at this point you may finally reach the back of the shop and get to the popcorn in all it's abundant flavors. They make everything fresh every day. With over 40 different flavors, ranging from quirky custom creations like Dill Pickle to classics like Salted Caramel; Just Pop-N truly has something for everyone! Don't be intimidated by the selection either! Owner Binkey Ragon insists you sample the popcorn to make sure you end up with exactly the right one.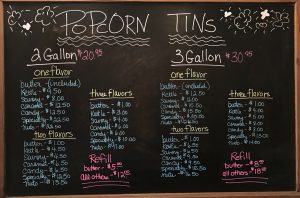 You'll find no matter what your tastes are, the owner Binkey is the sweetest thing in the store! She runs her business first and foremost as a Christian business, spreading her message to every customer she comes into contact with. Her kind heart and southern charm is mirrored by every employee of the store. The small staff more accurately described as family, welcomes every customer as if they were a guest in their own home.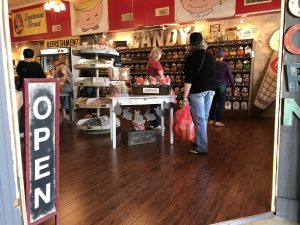 The unique style and open floor plan allows the crowds of visitors that explore the the shop every day to do so comfortably! Binkey takes care of her local customers by offering 15% off for all Fredericksburg locals on Tuesdays. The shop can ship to any of their out of town patrons, and is expecting their online shop to go live very soon. As convent as these options will be, nothing will substitute a trip inside, so next time you're in Fredericksburg, Just Pop-N!