The Backyard

This week, I write to you from Fredericksburg's own backyard- more specifically, The Backyard at Fritz Town. This brand new open air venue initially opened for business about three weeks ago, and has been the biggest party in town every Friday and Saturday since. A steady line up mixed with local sound, like Davey Shrank, and widely known artists, like Cody Canada, have kept the dance floor full of people young and old.
The Backyard offers a live music experience unlike anything in Fredericksburg for several reasons. First and foremost, the big stage: the main stage found near the back of the venue is reserved for larger shows.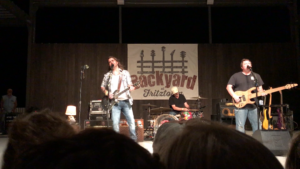 At a whopping 3250 square feet, the size just beckons for big-name artists. After speaking privately with the Venue Manager Ethan I'm very excited to see the line ups coming out in the near future!
The second reason this place is unlike any you might find in town: the VIP Section.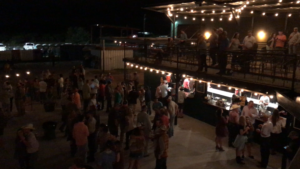 You may have noticed the creative use of storage containers in the infrastructure of The Backyard. There are multiple service windows that function as two bars on the bottom deck, and one merchandise window. On the top deck of the VIP Section there is yet another bar with cocktail service (Service only, no cocktails on account of the liquor license). The VIP Section can also work as a separate elevated stage for smaller musical acts.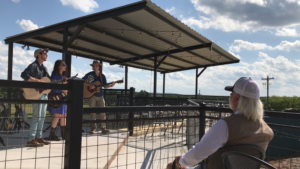 The third reason this place is unlike most in Fredericksburg, is that it is truly hidden away just like a backyard! So far, it is presented as a perfect local hangout. It is close enough to town, yet far enough to escape the noise ordinance. The venue is highly supportive of local brands as well. Sitting directly across the 87 highway from Pedernales Brewing Company, PBC has had a strong presence at The Backyard. Local sound, local faces, and local tastes. The Backyard at Fritz Town is a must try for anyone in the Fredericksburg area- local and visitors alike!