Munch Food Park
This week I'm back at Münch Food Park, and with the addition of their TWO NEW food trucks, there's a lot more to Münch on!

Bender Biscuit and Pie Co. and Axis Smokehouse have been parked at the Highway St eatery since the start of summer. They kicked things off in a big way June 3rd at the Münch Food Park all day event, The First Bite of Summer.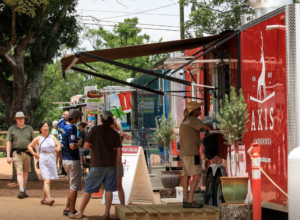 This event featured a full-day music line-up, a number of local guest chefs, special appearances by the SPCA and Pedernales Brewing Co, and of course the two new trucks. The park owners Justin and Kara Armes plan to host may more events like this over the summer, so if you missed The First Bite, don't worry- it won't be the last. In fact, there will be a free to view movie screening of "The Goonies" at Münch this Friday (June 16th).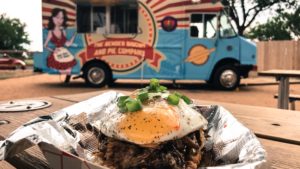 Bender Biscuit and Pie Co. is owned by Amy Simpson. She offers a selection of baked goods and breakfast foods that range from her original Green Chilie calachie to the brisket and egg biscuit so cleverly named the Briscuit.
Amy has refined her menu through many years of baking, and the experience is evident in each of her menu items. In fact, Amy draws on many of her grandmothers old recipes for inspiration, giving each dish a special homestyle flavor.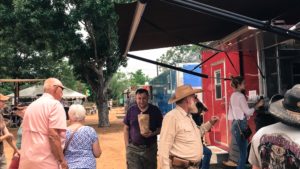 Axis Smokehouse is a classic example of Texas BBQ, and the perfect filler for the once wide open gap in Food Park dinner options. Axis owner, Jeff Pitts has earned his last name with over 30 years of BBQ experience.
His traditional menu is filled with unique twists on everyone's favorite Southern comfort foods. Each best enjoyed with friends and family for a shady summer lunch. Reasonable pricing and impressively fast cook times also makes Axis a perfect office lunch choice for groups.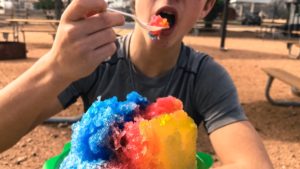 This wonderful addition to our town has continued to excite and impress with its unwavering line up of new trucks and guest chefs. The variety of foods and local alcohols paired with the diverse entertainment every weekend make Münch Food Park one of this summer's Hill Country hot spots.