TABAK HAUS
This week I write to you from my most recent discovery in this wonderful town of mine, and its right in the middle of my favorite corner off main. Tabak Haus sits in the middle of the new shopping center on Washington's side of the 87 and 290 intersection. Open since October of 2015, the shop is all about exactly as the sign reads; Good Spirits, and fine Tobacco. Its an old school cigar lounge, where the smokey living room atmosphere levels all social identifiers. "You'll see a Doctor and a carpenter enjoy a long conversation, and a few drinks" were the proud words of owner and sole employee Bob Kreipe. The relaxed environment, combined with the quality selection of both alcohol and tobacco make for a very unique social experience, and a MUST try for any local or Fredericksburg frequent.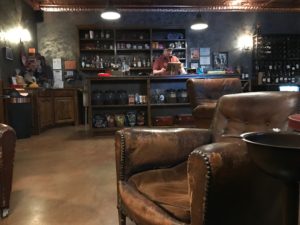 Hours
Monday Closed
Tuesday 10AM–10PM
Wednesday 10AM–10PM
Thursday 10AM–10PM
Friday 10AM–11:30PM
Saturday 10AM–11:30PM
Sunday Closed
Subscribe to Head for the Hills and be entered automatically to our weekly give away sponsored by a Head for the Hills destination! Also receive special deals and discounts available exclusively to my readers!
enter email address
enter your email address for a chance to win