DON'T Miss it this Weekend May 20th and 21st
Texas Ranger Hollywood Gun Shoot This Weekend!
The Former Texas Rangers Foundation has joined Hollywood Guns & Props to create a premier shooting event and the first ever opportunity for the public to shoot the actual guns used by Hollywood's biggest film & television stars! You can actually go and shoot with one of these awesome guns.
Time: Gates open at 8:00 am / Mandatory shooters meeting at 9:00 am
Address: Stieler Hill Ranch, 130 Adolph Stieler Rd, Comfort, TX 78013
Guns scheduled for The Movie Shoot:
Texas Ranger Hollywood Gun Shoot Weekend
– 6 trapdoor cavalry carbines from "She Wore A Yellow Ribbon"
– John Wayne's Colt six shooters from "Train Robbers", "Cahill-US Marshall", "Chisum", "Rio Lobo" and "El Dorado"
– John Wayne's carbines from "True Grit", "Rooster Cogburn" and "Big Jake"
– Chuck Connor's "Rifleman" Winchester model 92 carbines
– John Wayne's double barreled shotguns from "Big Jake"
– James Arness's "Gunsmoke" Colt single action
– Richard Boone's "Have Gun, Will Travel" Colt single action
– John Wayne's first movie revolver, a 61 Remington from "Big Trail"
– Clint Eastwood's handguns from "Dirty Harry", "The Outlaw Josie Wales", "Pale Rider" and "Tight Rope"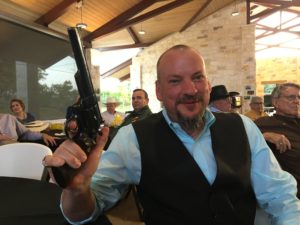 – Colt six shooters used by Marlon Brando in "One Eyed Jacks", Leonardo DiCaprio, Russell Crowe, Gene Hackman in "The Quick & The Dead", Jack Palance in "Shane", Gene Autry's from State Fairs and Rodeos, William Holden in "The Wild Bunch" and many more.
– Colt New Service model revolvers adapted to look like single actions used by numerous stars including William Holden, Jimmy Stewart, Jack Palance, Marlon Brando and Randolph Scott in dozens of films
– Winchester 1897 shotguns used by Lee Marvin in "The Professionals", William Holden in "The Wild Bunch", and Sean Connery in "Wind and the Lion"
– Beretta 92Fs used by Bruce Willis in "Die Hard" and Mel Gibson in "Lethal Weapon"
– Colt 1911 and shotgun used by Steve McQueen in "The Getaway"
– Lorne Green's special Winchester 73 used in "Bonanza"
– Colt 1860 model cartridge conversion used by Sam Elliot in "Hero"
– Springfield and Sharp's 45-70 and .50 cal Buffalo rifles
– Mod 92 used by Harry Carey in "Trader Horn"
AND DOZENS MORE….
Event Details:
Cost:
A donation of $250 to the Former Texas Rangers Foundation, a 501(c)3 Non-Profit Organization, affords (1) shooter (1) day on the range.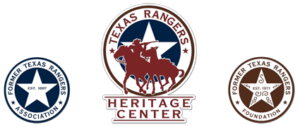 *100 shots with the weapon(s) of choice with free furnished ammunition. (Additional ammunition is available for purchase.)
*Targets, hearing and eye safety protection also furnished to each shooter.
* Range Safety Officers will be available to assist new and seasoned shooters alike.
*ALL SHOOTERS MUST BE 18 YEARS OR OLDER
*Only 50 shooters per day
*Ranch style meal provided
*Musical Entertainment
*Movie gun display & Texas Rangers gun/badge display
*Seminar by Hollywood Guns & Props on behind the scenes use of firearms in cinema
*Visit with Texas Rangers
*Vendor space available promoting their western wares
A donation of $25.00 per person each day admits Non-Shooters as spectators.