The third quarter of 2015 remained extremely strong for the Fredericksburg Texas real estate market with all aspects showing growth.Total Real Estate Sales listed by year for all of Gillespie County: The first 3 quarters of 2015 has set a new record for Real Estate in Gillespie County beating the previous best year of 2014 numbers!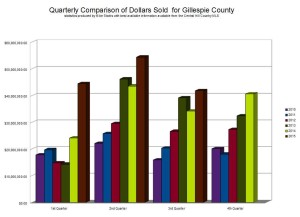 Total dollars sold is at $140,715,034 that is up 27.2%
Total number of properties sold is at 409 units , that is up 10 %
Homes within the city limits of Fredericksburg have had very high rates of appreciation for this year but the average price of a home in the city has gone up 17.1% in the first 3 quarters of 2015 and is at $304,530.  That puts the average price per foot at $167.85 and the average sale price this year is 97.56% of the asking price!
Third-quarter Real Estate market report