This one has SOLD but check out all the other Early Fredericksburg Homes Here :
Fredericksburg Pioneer Rock Homes For Sale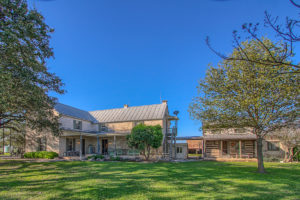 575 Buckeye Road Pioneer Stone home for sale Fredericksburg Texas
Historic 1800's pioneer rock home for sale in Fredericksburg Texas. If you love the old historic rock homes of the hill country is much as I do you will appreciate the authentic remodel done on this great property. You can almost feel the history in " The Wahrmund Priess House " originally built between 1852 and 1866 ! Today this lovingly restored pioneer stone homestead shines as a wonderful architectural example of early German craftsmanship.
The authentic restoration of the original limestone home exudes charm and comfort while keeping its traditional roots! Offering awesome living area with fireplace, a true country kitchen with modern conveniences, original old wood floors, modern baths and great master suite. You will also find a fabulous remodeled basement which would be great is a small home office or as a stately wine cellar! The main portion of the house consists of three bedrooms and two baths. $1898,000 For more information… SOLD
If you would like to learn more about this great home feel free to email me or call (830) 990-8708.